Powered parachute flight in Israel
Experience flight in flying  powered parachute (Buckeye) – the perfect gift!
Seat in the ppc, wear a seat belt and helmet
Feel the rumble of the engine.. and soar into the sky – an experience you never forget.
The vehicle is designed to carry two people: a pilot and a passenger, rising up high to the sky.
The flight carried out over open fields and orchards in the Sharon area.
Watch Israel from above, feel the absolute freedom!
There's no need for prior knowledge
Flying over Sharon area
Flight duration is 20 minutes.
suitable for individuals and groups
Flying over Sharon area – Every day – 150$ Per person.
For reservations call now: 972-53-3310639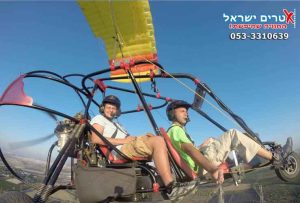 Flying over heritage sites – Tailor Made Flights
There is an option to fly over the country's main heritage sites and see them overview
It a completely different way- exciting and thrilling.
The flight includes explanations of the site.
The flight in powered parachute is slow and allows a good view of the site.
Flight duration is 20-30 minutes per person.
suitable for individuals and groups
The flights must be arranged at least a week in advance.
Flights are performed usually in the early morning.
Israel Heritage Sites
Masada / Sea of Galilee
Mini Israel / Caesarea
For two persons
825$
555$
One plane will performed the flights.
Fourth passenger will be calculated as twice 2 passengers.
For reservations call now: 972-53-3310639
Further Information:
Service hours: 6:00-10:30 AM and also 4:30 PM to dusk, all year round.
Possibility of requesting the nature of the flight: calm and relaxed vs. exciting and adventurous
Flying is allowed from 6 years old and is also suitable for people with disabilities.

Israel Extreme Activities

A wide variety of  Extreme activities Israel
For information call: 053-3310639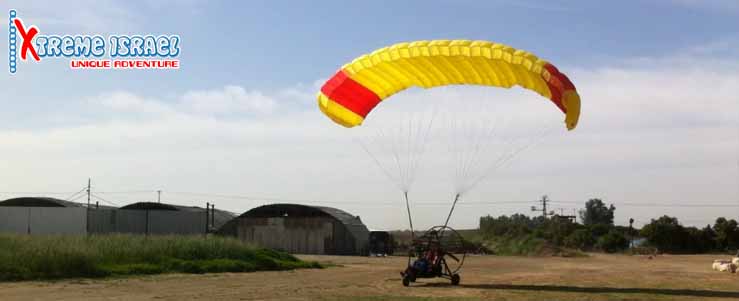 You are invited to read an article
about
us – Extreme Israel
 Israel Extreme Activities –  Buckeye in Israel